Sunday, April 23 2006 @ 01:18 PM EDT
Contributed by: Admin
Views: 1,914

t's with great sadness that we are announcing the passing of Smokey who was a member of our family for more than 8 years. After a routine yearly vaccine he came down sick in about 30 days. The vet diagnosed him as having a urinary tract infection and prescribed antibiotics. Smokey continued to lose weight and started to drink a lot of water. 30 days later he was getting sick a few times a week. We got him back to the vet after he stopped eating. This time he was diagnosed as being diabetic and we quickly realized that as well as being a very expensive few months, we could not care for our sick cat long term. It broke our hearts to make the decision that we needed to make. Our little buddy will be missed very very much. A few pictures will be up shortly.
Bella comes to us from the
Cambridge Humane Society
and is 6-7 month old female (we think she is a
Russian Blue
) that is all gray with green eyes, mauve pads and on the petite side. She has a squeaky meow, lots of energy and loves to play. Bandit needed a day or two to adjust to her but are getting along just great now.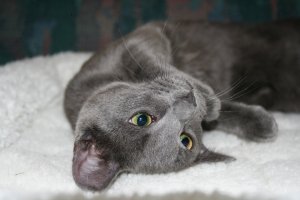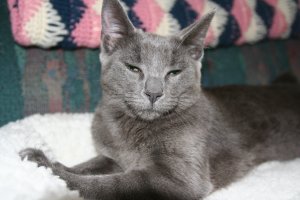 An old Russian prayer reads:
Hear our prayer, Lord, for all animals,
May they be well fed and well treated and happy.
Protect them from hunger and fear and suffering.
And, we pray, protect specially, dear Lord,
The little blue cat who is the companion of our home.
Keep her safe as she goes abroad
And bring her back to comfort us.