Day 14: Happy Valentines Day, Shopping Day and Canadian Visa
Wednesday, February 14 2007 @ 06:10 AM EST
Contributed by: Admin
Views: 1,918

International Hotel in Beijing, China (
40.044438,116.367188
)
Click the LAT/LON coordinates (WGS84) for our current location
Sunny, 6C, Winds NNW 10 km/h
Summary:
A non-tour day to do some shopping at the local department and Friendship stores.
Details:
Another non-touring day that let us go out on our own. After breakfast we headed out across the street to the Henderson Shopping Mall to buy some last minute items. We ended up at the Starbucks having coffee with anther family in our group. Later in the after noon we made the 20 minute walk to the Friendship store, which is sort of a government run store that has all types of Chinese gifts. We ended up buying a number of things. We have 1 suitcase that is full of items we have bought. We got Lauren's passport back today with a freshly applied Canadian Visa on one of the back pages. We now have all the paperwork and clearances now to return back home.
In the evening we headed back to this area to have dinner in a western restaurant. Sizzler, TGI Fridays and Pizza Hut all had wait times over an hour. We ended up eating back in the hotel. After dinner we packed our suitcases for tomorrow mornings 9:30AM pickup at our hotel room. We need to be checked out and on the bus for 11:00AM.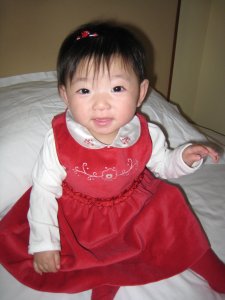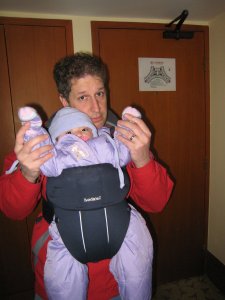 Link to full size version
for auntie Laurie
I also took the group shots for everyone that wanted to participate. It was taken on the second floor mezzanine in our hotel. We started to take a picture of just the babies but it tuned chaotic within a minutes. We salvaged the shot by getting the Moms to hold their babies for the series. If you click on the picture it will load the full size picture into your browser. When it is finished loading, use the file menu on your browser and 'Save Picture As..." to get your own full resolution copy. Repeat for any/all pictures in this series that you wish.