Day 13: Happy Birthday Lauren, The Forbidden City and Tian An Men Square
Tuesday, February 13 2007 @ 06:15 AM EST
Contributed by: Admin
Views: 2,735

International Hotel in Beijing, China (
40.044438,116.367188
)
Click the LAT/LON coordinates (WGS84) for our current location
Sunny, -3C, Winds NNW 12 km/h
Summary:
Day tour to Tian An Men Square, the Forbidden City and A Peking Duck dinner where we celebrated Lauren's first birthday.
Details:
Cold and windy was the best way to describe today. Both Sandra and I pulled our lining out of our jackets before we left for our day trip. Today's weather was much colder than yesterday and we suffered through the entire 2.5 hour tour.
Tien An Men square is very big and flat (world's biggest public space) with the center piece being Mao's Tomb. There were many local people and tourists milling around. This square sits between the old Forbidden City gates and the current one. Both are pictured below. Many places in the Forbidden City were covered and currently under renovations for next years Olympic game in Beijing. A little disappointed about the Forbidden City but I think it was because of the cold and the wind blowing so much dust in the air. I was so bad that we have people in the group leave the tour and head back in taxis to the hotel.
In the evening we had a excellent Peking Duck dinner on the 7th floor of the Silk Market. We ordered a cake for Lauren and had the entire group of 28 families sing Happy Birthday for Lauren and Emma that were both have birthdays today.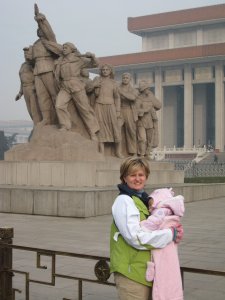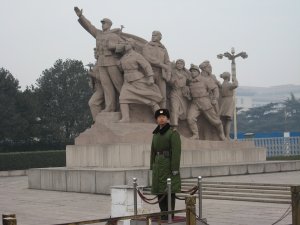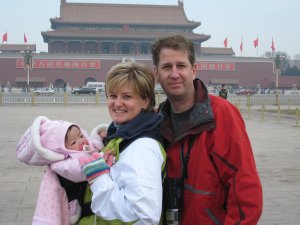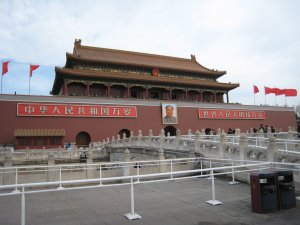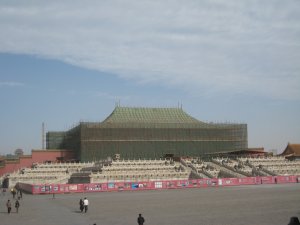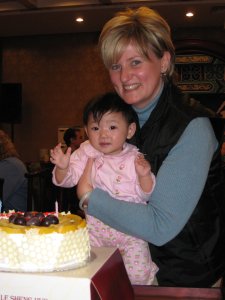 I also successfully completed 2 geocaches,
Tiananmen
and
Case Closed
(there are only 106 in all of China) Photos are at the cache zero-out point. Information on what geocaching is can be found at
Geocaching.com
.