Day 11: The Great Wall
Sunday, February 11 2007 @ 09:06 AM EST
Contributed by: Admin
Views: 2,157

International Hotel in Beijing, China (
40.044438,116.367188
)
Click the LAT/LON coordinates (WGS84) for our current location
Sunny, 12C, Winds NW 10 km/h
Summary:
A morning tour to the Great Wall and an a encounter at the hotel lounge.
Details:
Another early morning that had us on the bus at 8:30 AM. Lauren has been an excellent sleeper and we have not had to get up during the night with her with the exception of her first night. We traveled about an hour outside of Beijing and stopped at a jade factory where they made and sold jade items. Sandra managed to talk me into buying her a nice grade 1 jade bangle. We have bought a lot of items back to remember this trip and to help tell the story to Lauren when she gets older. We will wait until I get back to tell you about all of them.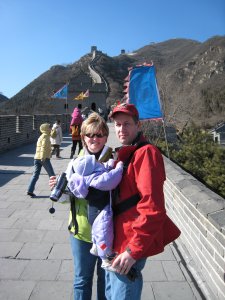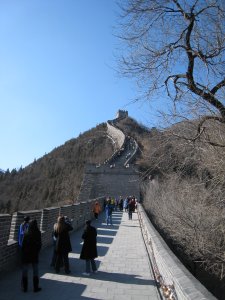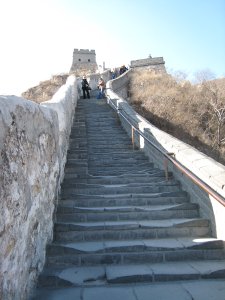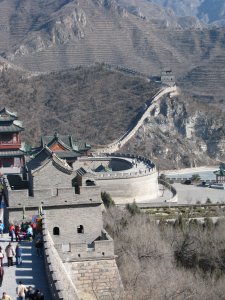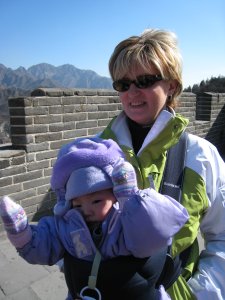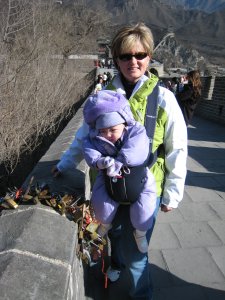 The wall is incredible. The section that we were in was in a fortified valley that was used as a tourist section now. The wall is very steep and very worn by all the tourists that climb this area. Since it we were in a valley it was quite windy so we needed to dress rather warmly. The last picture of this section shows a chain covered in modern locks. I don't know the significance of those locks but when I saw it I did remember an Amazing Race episode that had those locks in it.
Still where ever we go, we attract attention. I was having special daddy time with Lauren in the hotel lounge having a drink and feeding her Cheerios. We were actually waiting for Ross, Tracy's dad, to join us after a day of wall climbing Lauren was sitting in the chair next to me happily talking and eating. A older Chinese man and his 30-something son came over to us. The man, who was staggering drunk, sat in the chair opposite me and starting talking to me. I asked the son what is he saying and he said that his father does not speak any English. No kidding, I thought. I said to him, "can you translate for me". The son said, "No, he is my father". By this point I had picked up Lauren and the staff was encouraging me to move to another table. The older father would not leave even with his son grabbing his arm at least 3 times. I got up from the table and took my belonging and walked to another table out of site of the man. We never saw him again. I later asked the wait staff what his problem was. My waiter said that this gentleman had consumed 10 beer and some very cheap (500ml is $1 CDN) Chinese rice wine that was 56% (I have a bottle). I then asked him, what did he say? He said that that man was a old military soldier. He thinks what you are doing is a great thing and he wishes you much joy and happiness.