Day 5: It's Official, were a family
Monday, February 05 2007 @ 05:05 AM EST
Contributed by: Admin
Views: 1,971

Gloria Plaza Hotel, Nanchang, Jiangxi, China (
28.687560,115.877704
)
Click the LAT/LON coordinates (WGS84) for our current location
Haze, 18C, Winds W 5 km/h
Summary:
Trip to Adoption office and Notary official.
Details:
Today was a day of paperwork and interviews. We started at the Adoption office in Nanchang with our entire group of parents and babies for the official paperwork to be finalized. We were taken into a room for a family photo and a photo of Lauren. The family photo would be used later for her adoption certificate shown below. Next we had a 5 minute interview with an official that asked questions like "Were do you work?" "What do you do?", "How long have you been married?" and "What are your plans for the baby?". Next we needed to pay all of our fees including the orphanage donation to the cashier. While we were waiting for our group to all finish a group of American came into the office and a few minutes later a group of babies in the all too familiar yellow snow suits. They were another group of babies from Fencheng orphanage. In the course of the next 5 minutes of waiting, 3 nannies came upto Feng Ke wen (Lauren), called her by name and spoke to her. We didn't see this happen with any other family in our group that we could see. We were grateful for that opportunity to see them and have their pictures below.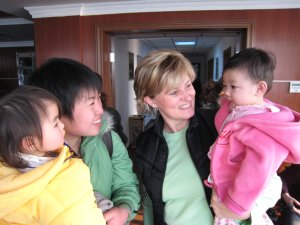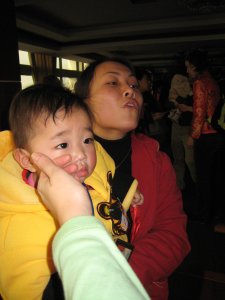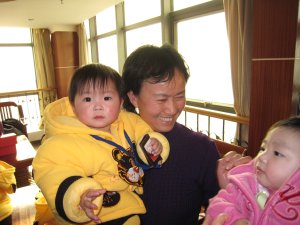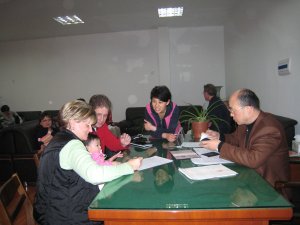 After that office, we traveled a short distance to the Notary's office to finalize the paperwork. Another short interview and more fees (actually paid earlier) and it was official. We were a family. Below is what can be considered our very first family photo.