Day 2: Summer Palace
Friday, February 02 2007 @ 04:11 PM EST
Contributed by: Admin
Views: 2,259

International Hotel in Beijing, China (
40.044438,116.367188
)
Click the LAT/LON coordinates (WGS84) for our current location
Haze, -3C, Winds NNW 11 km/h
Summary:
Tour Day to the Summer Palace and the Silk Market.
Details:
Mary, our translator and tour guide organized a trip to the Summer Palace for us this morning. For about 160 yuan ($23 CDN), we received bus transportation to the site and admission. It was about an hour bus ride through some very chaotic Beijing traffic. A very large palace grounds with wooden building and covered walkways whose focal point is a Buddhist temple a top a nearby hillside. The amount of detail and the expansiveness of the grounds was incredible. The palace is currently being painstakingly restored for the Beijing 2008 Olympics and would be a incredible place to visit in the summer. The shots below are a very small sample of the restored areas of the entire palace grounds. The entire structure is hand painted wood that does suffer through the affects of weather and sun.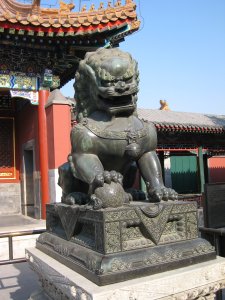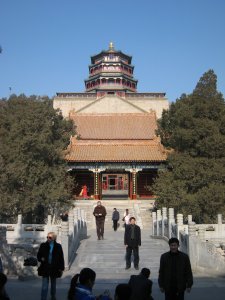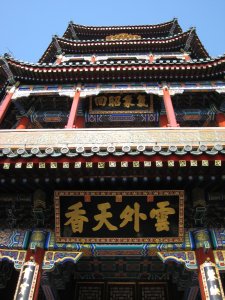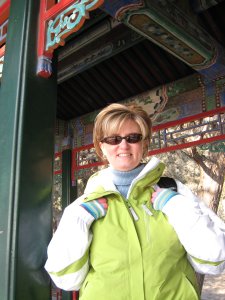 The Silk Market is a multi-story indoor flea market with every conceivable consumer knockoff and counterfeit good imaginable. Each stall is a an 8x8 cube with some being 16x8 and there are hundreds of them in the market. Each filled with designer goods and staffed by usually Chinese girls. You actually get grabbed by the girls as you wander up and down the corridors and everyone of them will say something to you like, "Hey you needa jeans, besta price for you today". Come look at my stuff." This happens about 15 times in a span of about the 2 minutes that it takes you to walk a corridor. We actually paused and took a break every time we started down a corridor. I will take some video of this next time we are down there....incredible. 2 People in our group were brave enough to buy anything. As an example starting price for a Polo cashmere v-neck sweater was a very high 75 US$ and the final selling price after much haggling and walking away and was 15 US$. Today we are off to the old section of town to the north of the Forbidden City and then the Beijing Acrobats in the afternoon. Tomorrow we fly out to Nanchang for our "Gotcha Day"!!